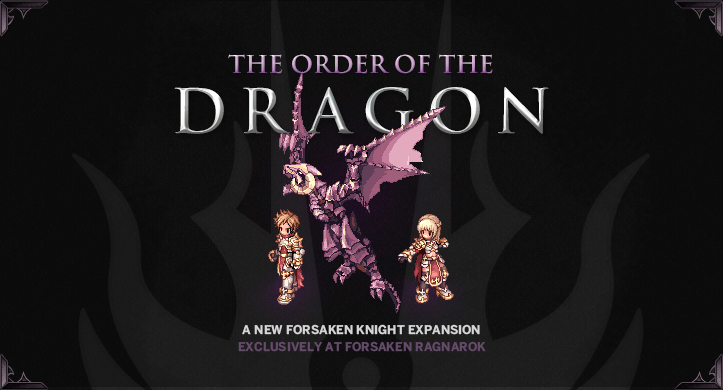 THE ORDER OF THE DRAGON is a group of elite Forsaken Knights who give a blood oath to protect the king.
When you join the Order, you will accumulate fame points which can be used to increase your rank or buy useful items.
You can earn fame points through Dragon raids, missions, quests, and enabling the Dragon's Fury PvP mode.
Depending on your rank, the effect of your Forsaken King or Knight set will be boosted.




To join, go to the Dragon Temple at fcity 155 115. Talk to Mordred and tell him you want to join the Order of the Dragon.




When you complete Dragon raids, quests, missions, and enable the Dragon's Fury PvP mode, you will gain fame points. Every time you increase your rank, your fame is set back to 0 again.

Dragon Raids: Currently, two are available in the rank 1-2 section. The Lost Forest of Oberon, which is an easier level, gives 100 fame. The Charleston Facility raid is more challenging and gives 150 fame points. You can repeat the raids as many times as you want. We strongly recommend doing these raids with a party!

Quests: Specific quests that give fame as a reward are in development.

Missions: Monster Hunter is the only mission-based system available currently. Talk to the Hunter in the Rank 1-2 section and receive a list of monsters to hunt. Once you have completed 30 missions, you will advance your Hunter Class and receive 200 fame points.

Dragon's Fury PvP mode: When you have this PvP mode enabled, players will have a Dragon's Fury aura around their character. You will receive 1 fame point for each Forsaken Knight you kill. If someone that has this enabled kills you, you will lose 1 fame point for every death. When you lose all of your fame points, you will fall into infamy and lose your Forsaken Knight status. This means you will have to re-do the Forsaken Knight quest if you wish to compete again. You will also lose any ranking you have gained in the Order. Note: Dragon's Fury PvP mode can be turned off at any time by talking to Mordred and you will no longer gain/lose fame points from PvPing. It is NOT enabled by default.





Dragonists will gain access to new quests, raids, and rewards as they rise in the Order.

You will start with 10 fame points when you join the Order.


The requirements for the first 2 ranks are:
Rank 1: 1,000 fame
Rank 2: 2,000 fame
Rank 3: 3,000 fame

Additional ranks will be released in installments, along with more rewarding raids and quests.


In the Dragon Temple, you will find raids, quests, and all relevant NPCs. Raids are on the top left, quests are on the top right, shops are on the bottom right, and sects are on the bottom left.