FORSAKEN
MINING SPOT
At Mining Spot you can obtain the following item


 Topaz


 Ruby


Crystal Blue


 Zircon


 Turquoise

 Pearl

 2carat Diamond


 Sapphire


Enriched Elunium


 Enriched Oridecon


Green Charm Stone

 Gold Ore

 Silver Ore

 Mithril Ore


Lava

 Gold

 Sardonyx

3carat Diamond

Cyfar

 Great Nature

1carat Diamond

Rough Wind

Amethyst


Red Gemstone

Opal

 Star Crumb


 Flame Heart

 Emveretarcon

Phracon


Yellow Gemstone


 Peridot

Angelic Crystal Fragment

Garnet

 Emerald


Wind of Verdure

 Citrin

Blue Gemstone

Aquamarine

 Agate

 Mystic Frozen


Stone of Sage


 Quartz

 Coal


Green Live
=======================================================================================================================

STEP 1
You have to farm
OLD PICK [7318] at @warp ein_dun01 as much as possible.
You can also farm on Mining spot but  you are not allowed to use command @warp on that map.

STEP 2
Warp here and go inside to the portal.



STEP 3
Walk to the Mining spot, Look on the map I add red circle for the place.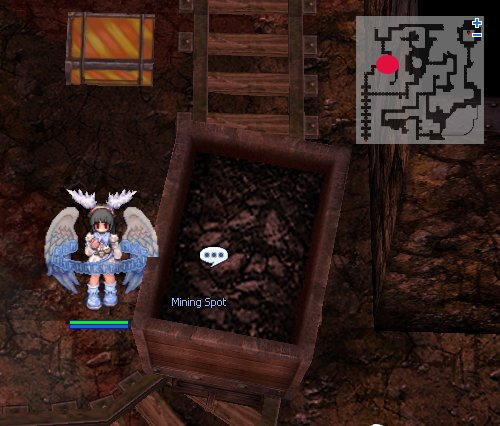 =======================================================================================================================
REVISED BY: [GM] JoyBoy